Outstanding Quality.
Our Certification.
We place a high value on the quality of our services. A simple statement of intent is not good enough for us in this respect. In order to formalise this in a transparent and clear way for our clients, in 2009 we underwent the first certification in accordance with ISO 9001:2008. Since then, annual audits have guaranteed high quality standards, and then in August 2018, certification in accordance with the new Standard ISO 9001:2015 was successfully carried out.
Quality management in accordance with ISO 9001:2015
At abc business communication, quality is an everyday issue. All of our work processes are consistent in their orientation towards customers needs. We listen extremely carefully to the wishes of customers and offer language training courses which take into consideration individual needs and the general requirements of the market. As a quality service provider, we continuously check customer satisfaction with evaluations of our language courses.
We select our trainers using transparent criteria. They regularly take part in internal and external training courses, the effectiveness of which we monitor continuously.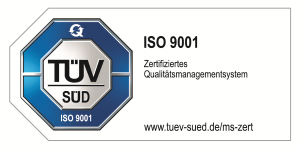 Management System Certificates
You can find an overview of our management system certificates on the 'TÜV Süd' website.
Since August 2014 we have been a test centre in the ETS Preferred Network.

Our staff members Sabine Musbach and Claudia Wöll have successfully completed test supervisor training sessions and obtained test supervisor certificates. They are now entitled to use the title of "Authorised Test Supervisor".